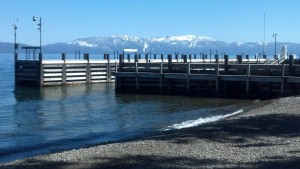 The Unofficial Alpine Meadows Ski Report
Produced by Andy Wertheim
Hello Skiers and Riders,
Our seasons are changing.  Snow fields are receding from the hillsides (unfortunately very early this year), and yellow flowers are popping there heads up out of the ground.  Although ski season is not over yet, it is time to lift the paddle boards off there racks, clean the dust off the kayaks, inspect the soles of hiking shoes for tread, oil the mountain bike chain, and head for the driving range to tune up the swing.  The air is warm.  My heater is not cycling at night, and the sky is blue each morning.  Spring is in the air, the lake is low, but flat and begging to be ridden.
At the ski area, morning runs have been good.  The groomers are smoothing out some runs at night making spring corn for the morning crowd.  I have not gotten out much this week, so I cannot give you accurate reports, but Tuesday morning we had a good time turning on some delicious corn.  However, off piste the snow was still decayed in many location.  Off piste had not transitioned from the last powder storm to smooth corn.  It was bottomless and pitted.  Temperatures have been hiking into the upper fifties during the day which makes for good sun bathing on the deck at lunch.
Enjoy your day,
Andy Wertheim
Tahoe/Truckee Realtor
530-583-3483- ext:3
530-386-0734 cell